BIG TENT RANGE - 6X12M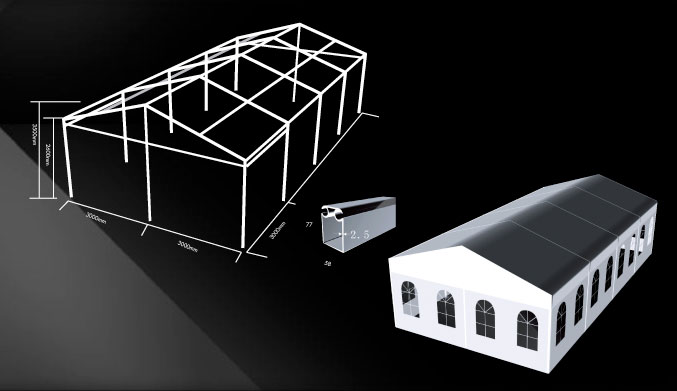 Tents Specifications
Frame Weight
465kg
Roof Weight
119kg
Walls Weight
111kg
Total Weight
695kg
Bay Distance
3000mm
Clear Span
6000mm
Eave Height
2600mm
Ridge Height
3580mm
Roof Pitch
18º
Longest Component
3050mm
Main Profile
77*58*2.5
Frame Material
aluminium
Roof Material
0.65mmPVC
Packing Frame Dimensions
420*70*77*1
75*75*40*1
65*60*25*6
75*65*30*2
BIG TENT RANGE - 10X20X4.6M
Tents Specifications
Frame Weight
900kg
Roof Weight
256kg
Walls Weight
234kg
Total Weight
1390kg
Bay Distance
5000mm
Clear Span
10000mm
Eave Height
3000mm
Ridge Height
4620mm
Roof Pitch
18º
Longest Component
5500mm
Main Profile
126*68*2.8
Frame Material
aluminium
Roof Material
0.65mmPVC
Packing Frame Dimensions
530*70*110*1
75*75*75*1
75*68*21*61
75*75*25*4
65*60*25*6
Tents Accessories

We Stock a complete range of accessories designed to cater specifically for your event

Accessory
Description
Decorative Ceiling
Provides a tastefull interior to the marquee, perfect for large scale corporate events.
Wooden Flooring
A timber flooring solution that creates the perfect surface for any event.
Church Window
Arch windows ideal for bringing light into the marquee without sacrificing the wind protection.
Solid Wall
50mm heavy duty walls designed with added sound protection.
Glass Wall/Door
Glass walls and doors that offer security and protection with added style.
Custom Designs
Our design team can work with you to produce your ultimate marquee.

Custom Printing
Extreme Tents want to produce your ultimate marketing product. Our full colour digital printing process will add whatever graphics, logos or photographs you require to brand your marquee.
As with all Extreme Tents, we use only the highest quality PVC to enhance our full colour digital printing process. Our PVC is imported from Belgium and France and offers the ultimate in resolution, definition and high quality colour. After printing we "hot seal" our PVC to protect against scratching, dirt and ultra violet light fading. With the correct care and maintenance your marquee will last for many years, looking as good as the day purchased.