Marquee Eclipse Inflatables
The Extreme Marquee "Eclipse" inflatable range

8.0m Diameter x 4.0m High,
10m Diameter x 5.0m High,

| | |
| --- | --- |
| Size | Fabric |
| 8m Diameter | 100% PVC |
| 10m Diameter | 100% PVC |
| | |
Marquee Quantum Inflatables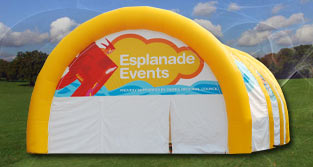 The Extreme Marquee "Quantum" range
4m Wide x 6m Long x 2.5m High
10m Wide x 10m Long x 6.0m High
7.5m Wide x 15m Long x 4.0m High
10m Wide x 20m Long

| | |
| --- | --- |
| Product | Weight |
| 6 x 4m | 100% PVC |
| 10 x 10m | 100% PVC |
| 15 x 7.5m | 100% PVC |
Extreme patent pending technology
Extreme marquees are leaders in marquee design and innovation. Designing new, advanced and radical shaped marquees is our speciality. However with design comes safety issues. Extreme Tents has recently engineered its own Patent pending technology Safety air release system (SARS tm) to prevent accidential over inflation of our inflatable range.
All Extreme inflatable marquees are fitted with this patent pending safety valve and THERMAL WELDED with German technology.
Inflatable marquees can be manufactured in three ways.
1) SEWN
Similar to jumping castles where the fabric is sewn together.
With this method the electric air blower needs to be on constantly as air continuously leaks through the sewn seams. If however power is lost due to a circuit breaker or blower fault, the marquee will deflate within 30 seconds. Also, there is considerable noise from the blower.
2) GLUED
Similar to zodiac inflatable boats.
The advantage of this method is that after the marquee is inflated, the electric air blower can be turned off. There is no reliance on constant power to maintain inflation.
3) THERMAL WELDED
Thermal welding is the ultimate method of making an inflatable and offers all the advantages of the glued method along with increased join strength and a smooth almost seamless join. All Extreme Marquee inflatables are produced via this method. Extreme Tents uses a state of the art German welding machine to ensure the highest quality is achieved through the manufacturing process.